Throughout history, artists have always played key roles in social and cultural turning points, by documenting major events, fulfilling utilitarian needs (think murals, signs, monuments) and doing the simple but essential job of keeping community spirits up. 
Entering the month of October, most Nigerians (understandably) rolled their eyes and hissed at the "60 years of independence" celebrations. Less than a week after: in response to a video of an innocent man shot by operatives of the Special anti-robbery squad (SARS) , disaggregated protests sprung up around the country demanding better governance and an end to police brutality. The #ENDSARS movement began.
Contrary to the indifference at the start of the month: organically, magically, everyone stepped up. Caterers fed protesters. Medical professionals and lawyers offered their services. Online, people kept the hashtag trending. Lawyers provided pro bono services for arrested protesters, and so on.
The art community was not left out.  A tweet,  a group chat , a couple hours and a flyer later,  the #ENDSARS Protest Art Live Painting was scheduled for October 17th. 
The plan was to raise money, but also raise awareness and show up to lend our voices the best way we knew how. Artists were invited to come make work related to the cause, and offer all proceeds from their sales towards the #ENDSARS movement. 
Photography by JPearl King (@jpearl_king)
We ended up raising a total of N237,773 partly from donations and partly from art sales. And this doesn't even include the value of art supplies donated to the cause by some extremely generous individuals. 
The initial plan was contributing to the Feminist coalition's protest fund , however they stopped accepting donations the week before our sales ended, and ultimately we ended up supporting two related causes: firstly, legal support for arrested protesters and second, SHquseNG, an organization which provided resources for queer protesters. 
 The money raised was only one highlight of that day. The support, from artists and the larger community alike, was incredible. A crowd gathered to watch us paint, and hearing/seeing their reactions to the art coming alive was SO rewarding! Being physically present with fellow creatives at the protest ground & being able to contribute meaningfully to such a generation defining moment was a feeling I would best describe as euphoric. I left the toll gate physically exhausted but on a wild emotional high.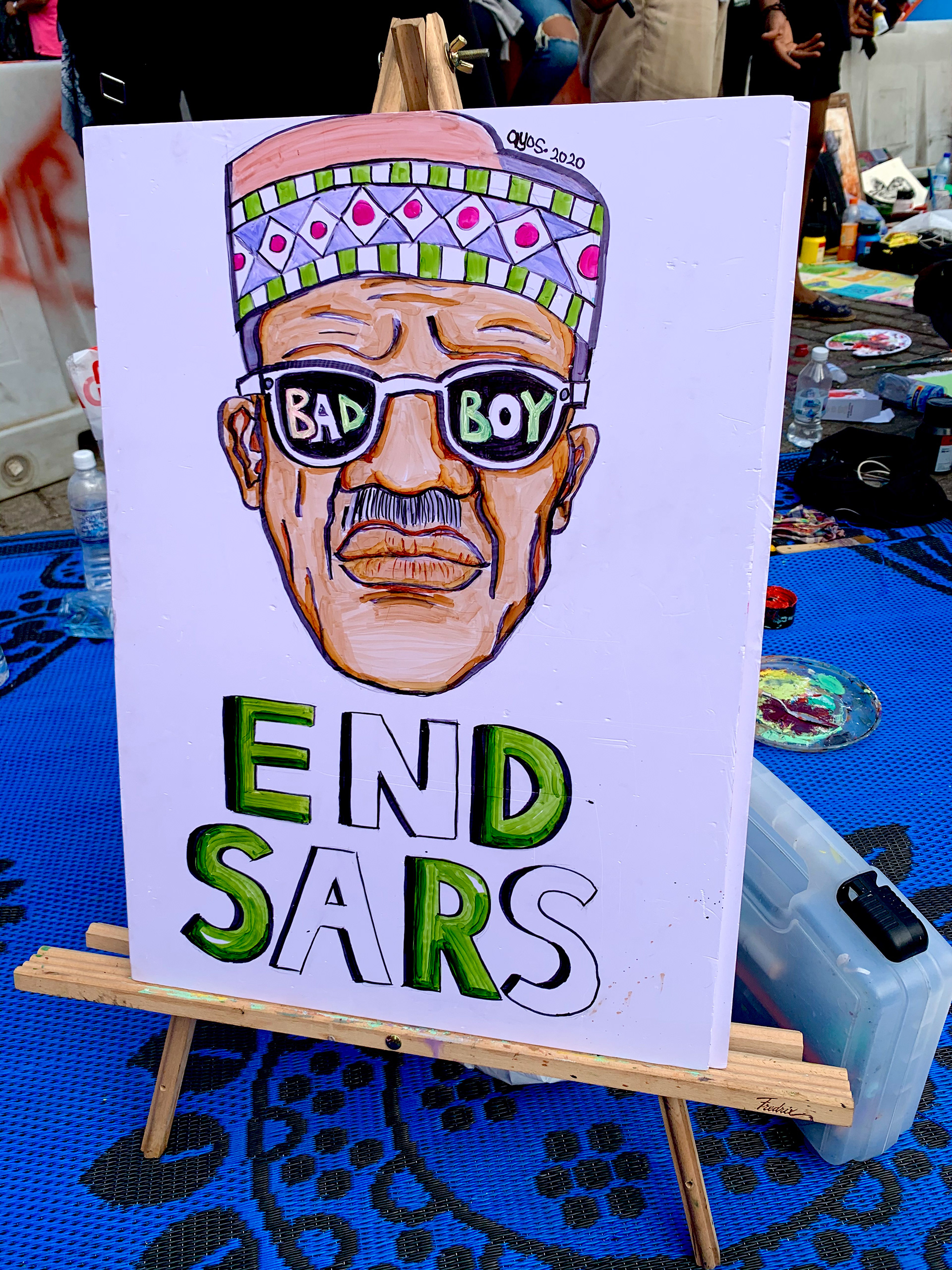 Three days later, on the night of 20th of October 2020,  officers of the Nigerian Army surrounded unarmed peaceful protesters who were singing the national anthem and waving the flag at the Lekki toll gate, and started shooting at them. 
The horror of that experience is apparent enough from the description, and has already been well documented on social media and several media outlets, so there really isn't much else to say here.  I do wish there was a memorial for those we lost during and after the protests, something tangible that people can visit to remember their awful sacrifice, because so much effort has been exerted on their erasure. 
It's important to not forget. To not forget that two months later, besides pointing fingers back and forth, calling CNN liars and (not so) subtly threatening citizens, not much has been done by our representatives to explain what happened. As for the state of the country….well, there's not a lot of optimism from this side. 
But my feelings  about Nigeria right now are entirely different from my feelings about the many, many people who tried to push this country to do better, especially the brilliant artists who used their time and talents to soro soke, FemCo for inspiring so much of us in the first place, and the many wonderful people who contributed, donated or put in some effort to make the Protest Live Painting the joyful and meaningful event it was. I hope someday we all get the country we deserve.